Each time you log-in to FlowWorks, you are first presented with the Network Map. The Network Map page has two views: The Map view and the Site Details view. This article describes both.
Map View
The Map view has a few primary components, as described in the table below.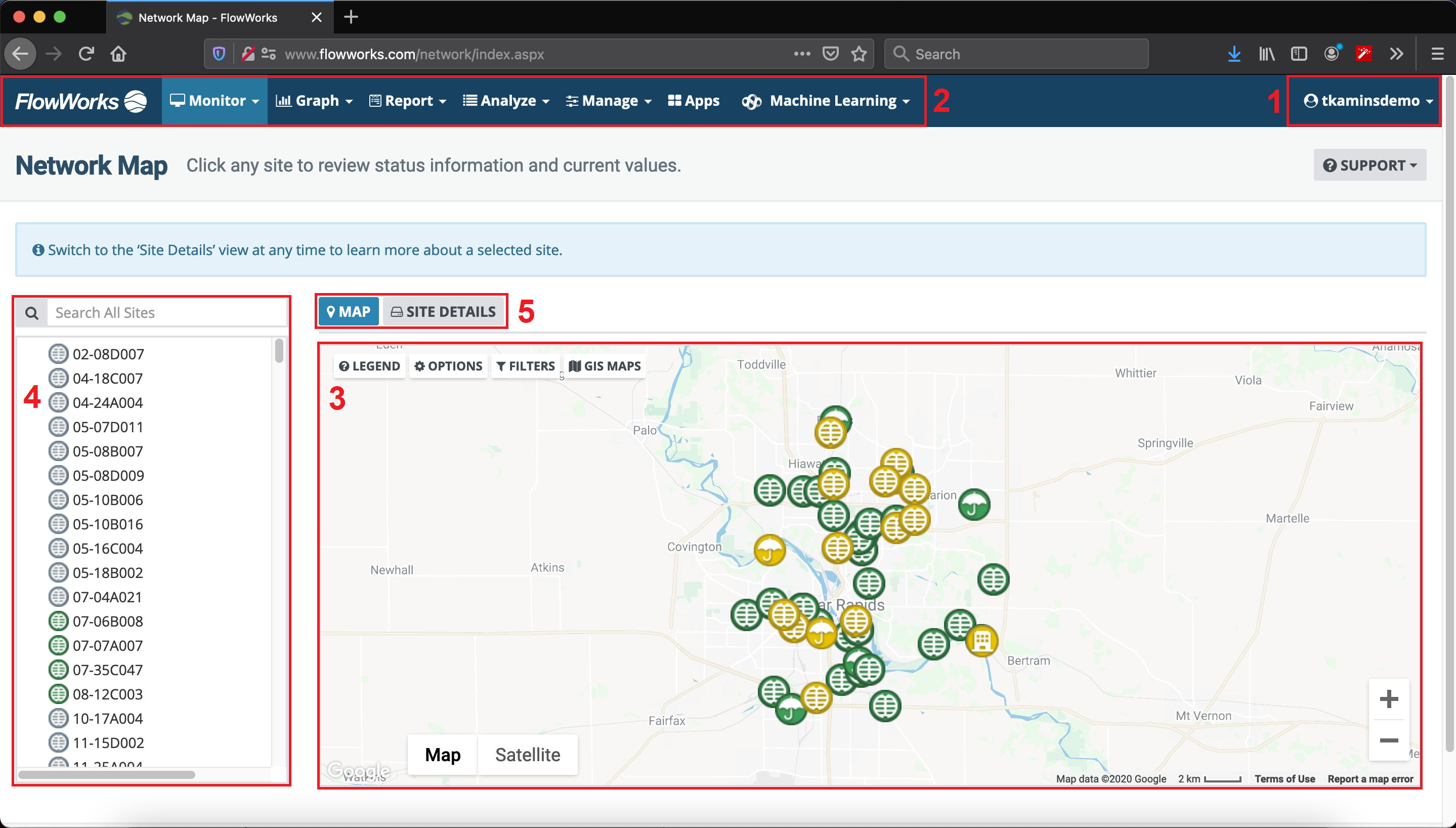 Label
Name
Description
1
Profile Options
Expand this menu to view settings options that pertain to your profile, only. You can organize sites and folders the way you wish, manage your password, and securely logout of your FlowWorks account.
2
Primary Navigation
This is your go-to toolbar for navigating through FlowWorks. Clicking on any of one of these categories will reveal a list of pertinent tools. This is a global toolbar that is always available at the top of your screen regardless of where you are in the application.
3
Interactive Map
Powered by Google, the map is used to show the location of each Site registered in your client profile.

Layered on top of the map are the locations of each of your sites, represented as a circular icon on the map; each with varying colors and symbols for indicating the status and site type, respectively. Just above the map (along the top-left side) are the available map options, and a site icon legend for your reference.
4
Site Tree
A reference list of all sites registered in your client profile (includes active and inactive sites). This list is in a "tree-structure" format. When sites are organized in folders, the folders act as "trunks"; and when expanded, they show the sites organized within (the "branches"). Any site in this list can be clicked to have the map automatically jump to it's location and reveal a summary of its details - including status, and when data was last received by FlowWorks' system.
5
Toggle between 'Map' and 'Site Details' view
When a site is selected, you can quickly switch between both views. 'Site Details' shows elaborate information regarding the selected site. You can also upload file attachments for the site from the 'Site Details' view.
When you click any site icon, either from the map or site tree, you reveal a modal that provides a brief overview of the site's details.
Accessing any of the available tools from this box will automatically apply the chosen site to the tool. For example, clicking Graphing from this box will automatically plot all channels within this site on a time-series.
You can click View Site Detail to toggle to the Network Map's 'site details' view, which provides more information about the site, and a way for you to upload any reference files you wish to include with the site.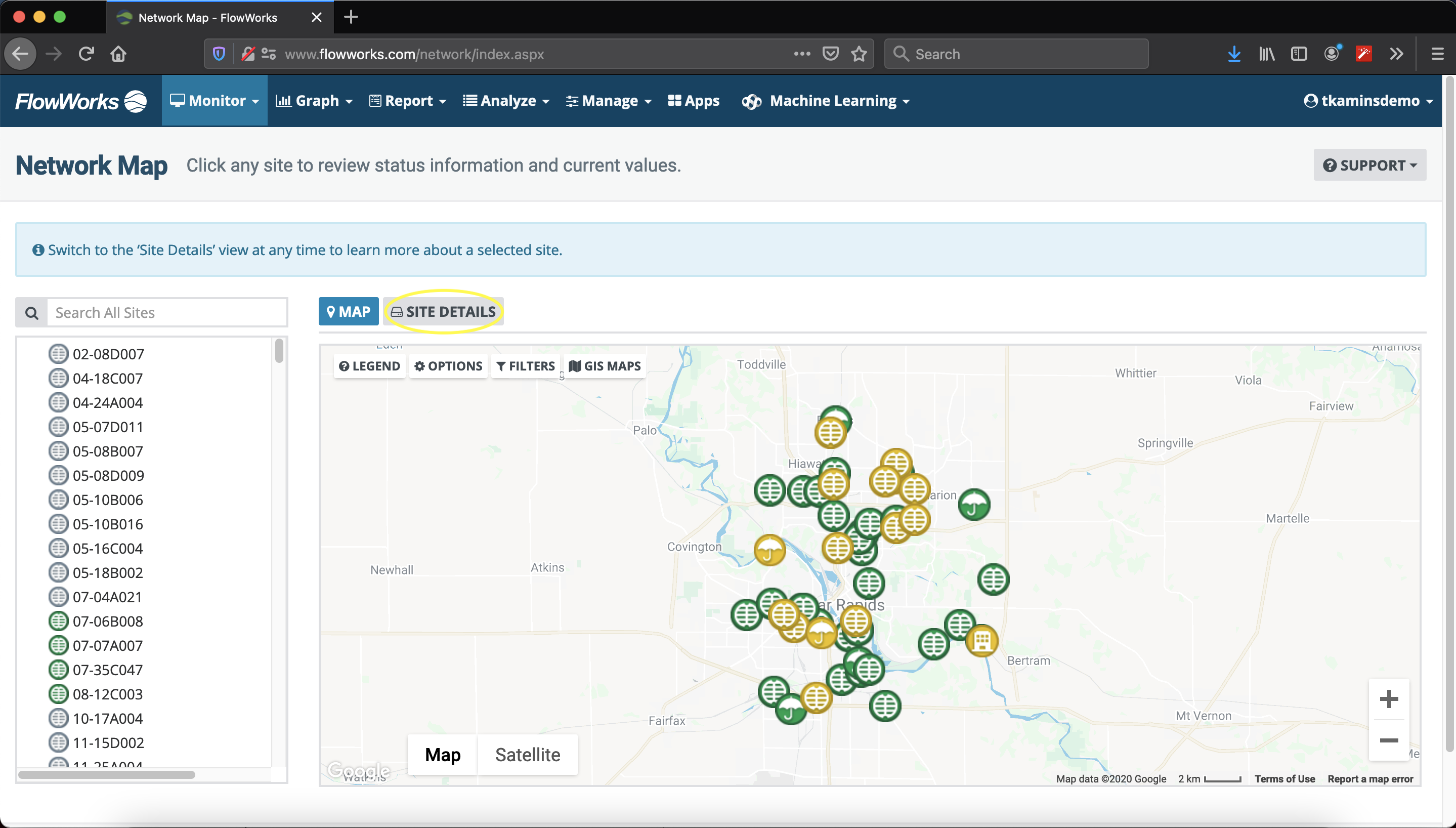 Site Details View
'Site Details' view reveals all you need to know about a site - including location, call-in schedule and ongoing alarms. It also includes links to commonly-used tools that automatically launch with the selected site included.
Further, you can create custom data fields for appending additional site information. Each field you create consists of a label and type. A label describes what the field is, and the value can be one of: text, date and time, or a selection list. For example, a field with label 'Pipe Material' and type 'Selection List' may have values such as: Copper, Concrete, PVC, etc. You can save a set of fields as a group and have them automatically added to any new sites later created.
You can also include file attachments to a selected site, which can be downloaded by you or your colleagues at any time. Upload virtually any file type - including images, CSV files, audio files, or anything else you wish, maximum 25MB per file.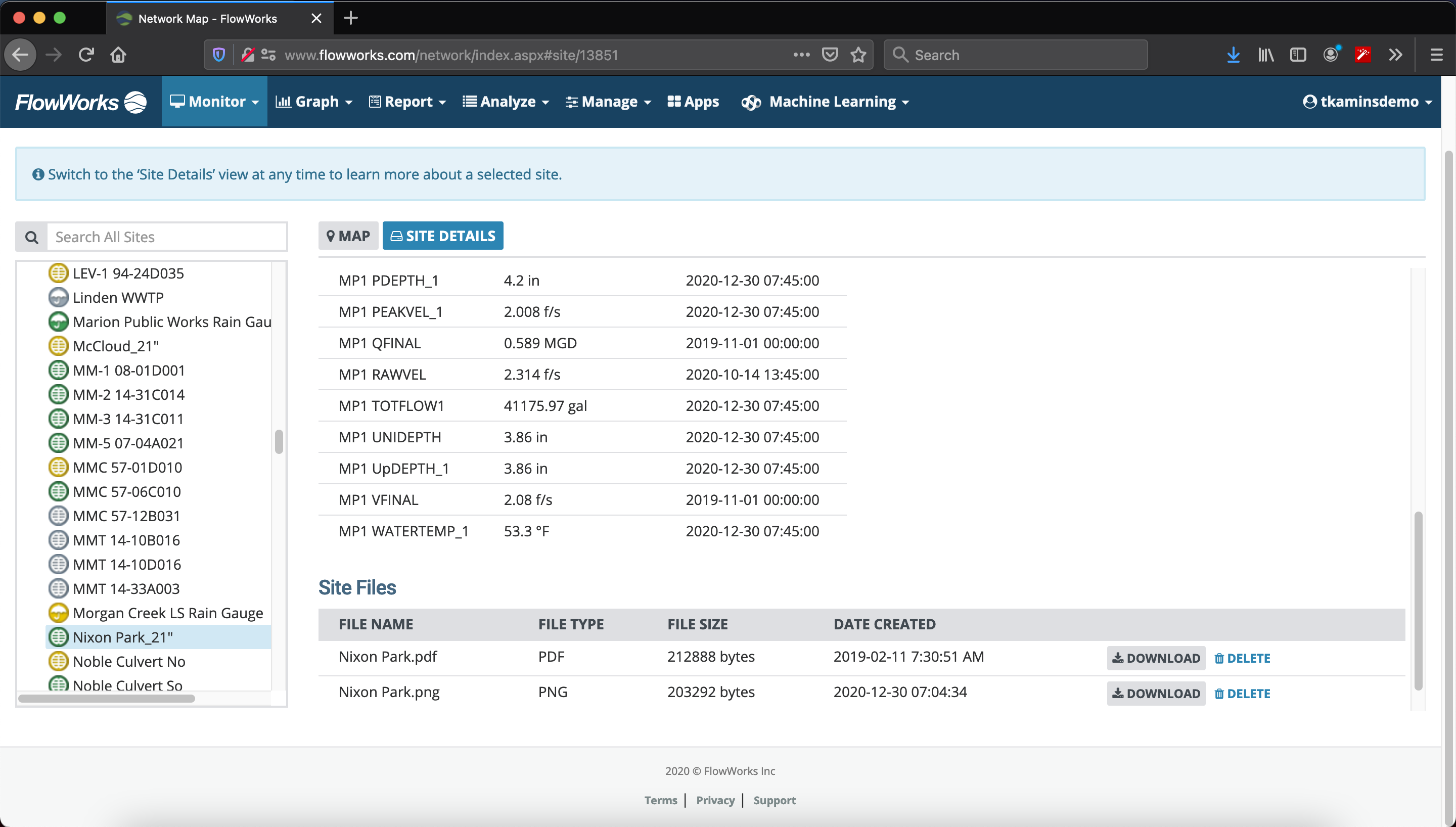 You can view site details in two ways: either click Site Details from the top of the map (click Map to go back); or click View Site Details from the info. box that opens in the map after you've selected a site.