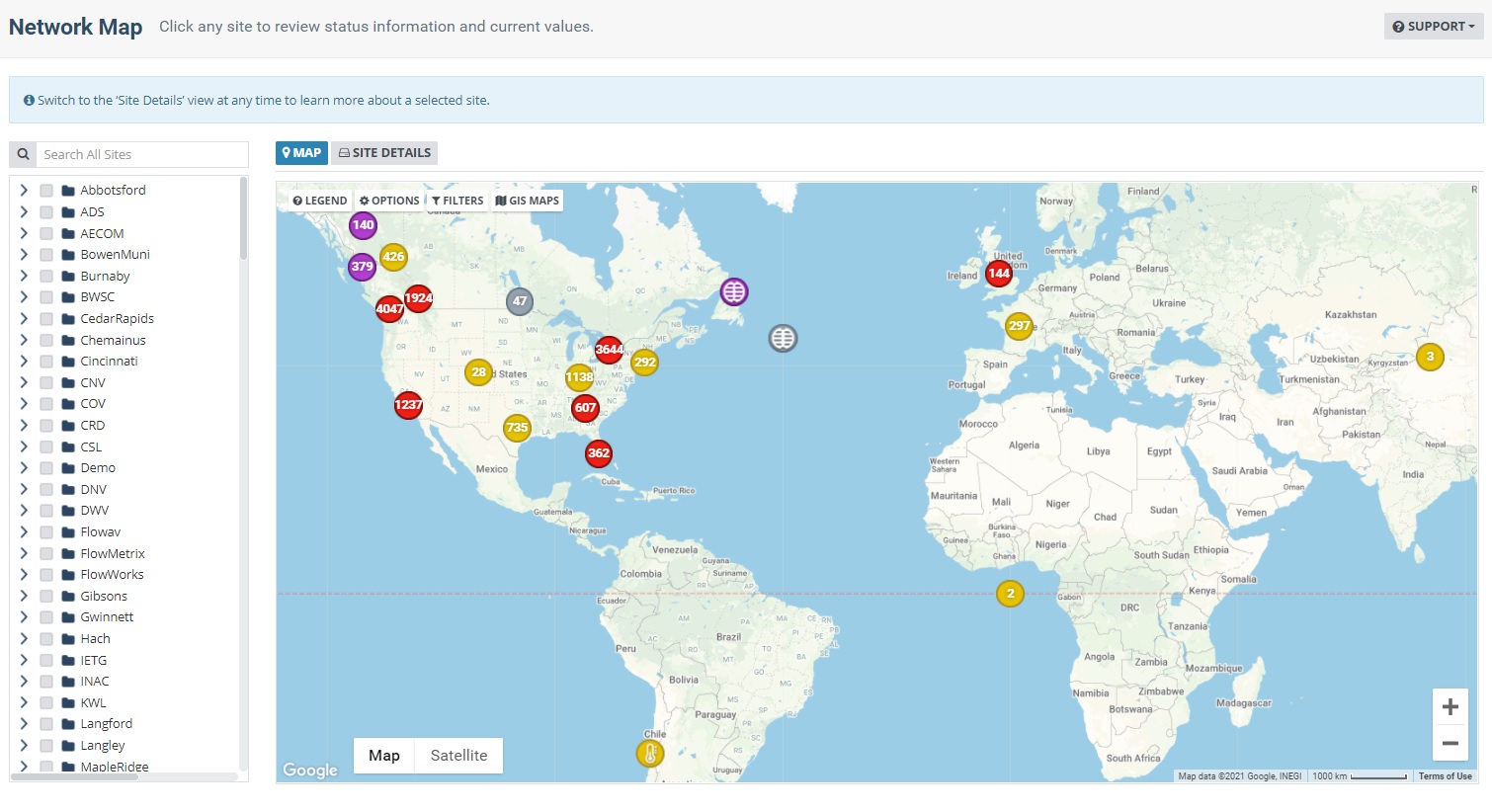 FlowWorks is a powerful web-based solution for gathering, analyzing and understanding environmental data related to water, waste water, rainfall, climate, stream flow and industrial facilities. Use FlowWorks to track monitoring stations in real-time, set and manage alarm notifications, store and edit data, graph and compare past and present readings against other stations, analyze rainfall, stream, flow and sewer data, and publish the information anywhere.
The process of using FlowWorks begins when a municipality, county, sewer district, engineering firm, etc. puts a measurement / recording device into a storm drain, sewer pipe, stream, and the like, and that meter / data-logger begins collecting data.
Typically these instruments consist of one or more measuring "meters" connected to a data recording device or "data logger". There are a number of manufacturing companies around the world that specialize in data loggers, with the prominent names in the field being Telog, ADS, ISCO, and Hach. The meter sends a constant stream of readings to the logger and the logger is programmed to pick out of this stream a reading at a preset time frame, or the meter can be programed to send a reading to the logger every x-minutes and the logger records whatever is received. In either case, this is where the data-collection process begins; the important bit here is that the time and date ("time / date stamp") of the reading is associated with specific data.
FlowWorks consolidates data allowing you to perform real-time analysis, check flow monitoring status and set alarms through a single interface, transforming raw data into actionable information.
From FlowWorks' point of view, it does not matter the type of data-loggers you use. There are only two rules:
You must be able to transfer data via the Internet to FlowWorks, either by wireless modem, Ethernet connection, dial-up connections or even manually retrieving the data and then sending it via FTP.
The data needs to follow a consistent format so our servers can "read" the incoming data to a) associate the file to a client and b) successfully parse the data into the database format which permits the reporting and analysis tools to work.
FlowWorks receives your data, usually in one of three methods:
Via your data-logger, which is programmed to "call-in" on a set schedule. Whether it be every hour, once a day, or once a week - it sends your data in a packet to FlowWorks' Internet IP address. Remember, more calls mean a shorter battery-life, hence more trips out to replace batteries.
Via your data-logger, which is programmed to "answer calls." The FlowWorks platform is programmed on a set schedule to reach out to your data logger's IP address and request the data stored therein be forwarded to FlowWorks.
Via an intermediary system which collects the data, builds a formatted file and then the file is manually or with an automated program, sent to the FlowWorks FTP server where you log in and copy the file into a folder reserved for your use.
Once the data is received by a FlowWorks "listener" (a program which watches for incoming data), it is authenticated, the data format is verified, and then the data is parsed into the database structure. Included in this process is testing the data for preset alarm conditions and if present communications are initiated.
Once the data is placed into the FlowWorks database structure, it is ready to be used in any of FlowWorks' monitoring, analysis and reporting tools.
All Data > In One Place > Easily
FlowWorks is...
Flexible. Real-time, manual, historic, USGS, NOAA, wireless, satellite - it doesn't matter where your data originates. You can connect it to FlowWorks.
Affordable. We provide a full-access data collection and flow analysis solution for a low monthly fee, with no contractual obligation.
Hardware Neutral. FlowWorks automatically links to leading brands of data loggers and SCADA systems including ADS, Hach/Sigma, Isco, Detectronic, Telog, Unidata, Campbell Scientific, iFIX/iHISTORIAN, Wonderware and much more.
Hassle Free. With FlowWorks, there is no software to install, no extra hardware to maintain, no patches to download, and no annual maintenance fees to pay.
...a better way to manage your data.