This tool lets you conveniently search for the same condition across equivalent channels that exist across many different sites. The result is a single table of separate events for each site that meets your search criteria. Please note this tool is not the same as the Event Finder - the Event Finder is designed for you to combine events by searching for various conditions across multiple sites.
1. Open the Multi-Site Event Finder
Click Analyze.
A dropdown list appears.
Click Multi-Site Event Finder.

2. Select Sites
The application will search within these sites for channels and events that match your query condition (which you will setup in the subsequent steps).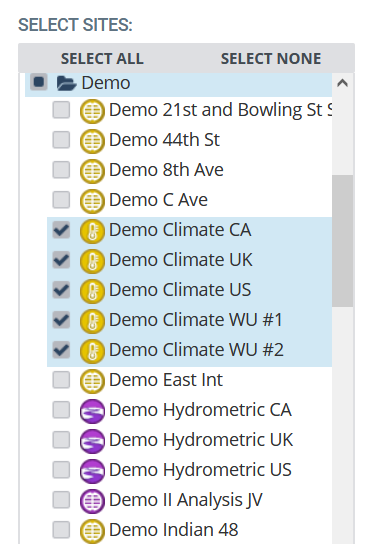 3. Enter a Channel Name for the Query
The query will search for events in the channels that match your specified channel name, only from within the site(s) you have selected.
You can add "*" to the beginning of the specified Channel Name to search for events in channels that have all or part of the given name.

4. Choose a Condition Operator
Use the drop-down list to make your selection.

5. Set a Condition Value

6. Set a Date Range

7. Click Run Query
FlowWorks may need a few moments to populate the results if you are searching through a large amount of data.

8. Review the Results and (Optionally) Export as a CSV File
The resulting table in this example shows all events in the selected sites that meet the query condition.
You can optionally download this table as a CSV file by clicking Export As CSV.