You may want to edit information pertaining to a raw or calculated channel, such as the channel's name, units, and whether it should be visible in FlowWorks' analysis and rainfall tools. You can make such modifications in the Edit Channel page, which is only accessible by Site Configuration Admins. This article describes how you can go about editing a channel.
This article does not discuss how to edit a calculation in a calculated channel. If you wish to do this, see the Edit a Calculation documentation.
Only Site Configuration Admins can modify information pertaining to raw and calculated channels. Please contact your Group Administrator about being granted the correct user role.
1. Open Configure Sites (FACE)
Click Manage from the main toolbar.
A dropdown menu appears.
Click Configure Sites (FACE).

2. Choose the site that contains the channel you wish to edit
Use the Choose Site list to make your selection. If channels are available for your chosen site, the Choose Channel list will populate.
The Choose Calculated Channel list will also populate with available calculated channels. For the purpose of simply editing a calculated channel's basic info and visibility, we will omit using this list.

3. Open the channel you wish to edit
Use the Choose Channel list to select either the raw or calculated channel.
Click Edit Channel.

4. Make your desired changes to the channel's information
From the Edit Channel page, you can modify the following.
Channel Name: The name for the channel, visible in all site lists.
Channel Units: The units in which channel data is expressed.
Channel Type: This cannot be modified, however this notifies you of whether the channel in question is raw or calculated.
Visible: You may want to limit the channel's visibility in FlowWorks' analysis tool, in which case leave this unchecked.
Enable Rainfall Tools: Rainfall channels are often treated in an entirely different manner than other data channels. For this reason, they must be "rainfall enabled" so they can be used in any of FlowWorks' rainfall tools, such as IDF Analysis and I&I Analysis.
Advanced Options: You can edit this channel in other sites, if they exist. The Advanced Options list will only contain sites that have a channel with the same name and type.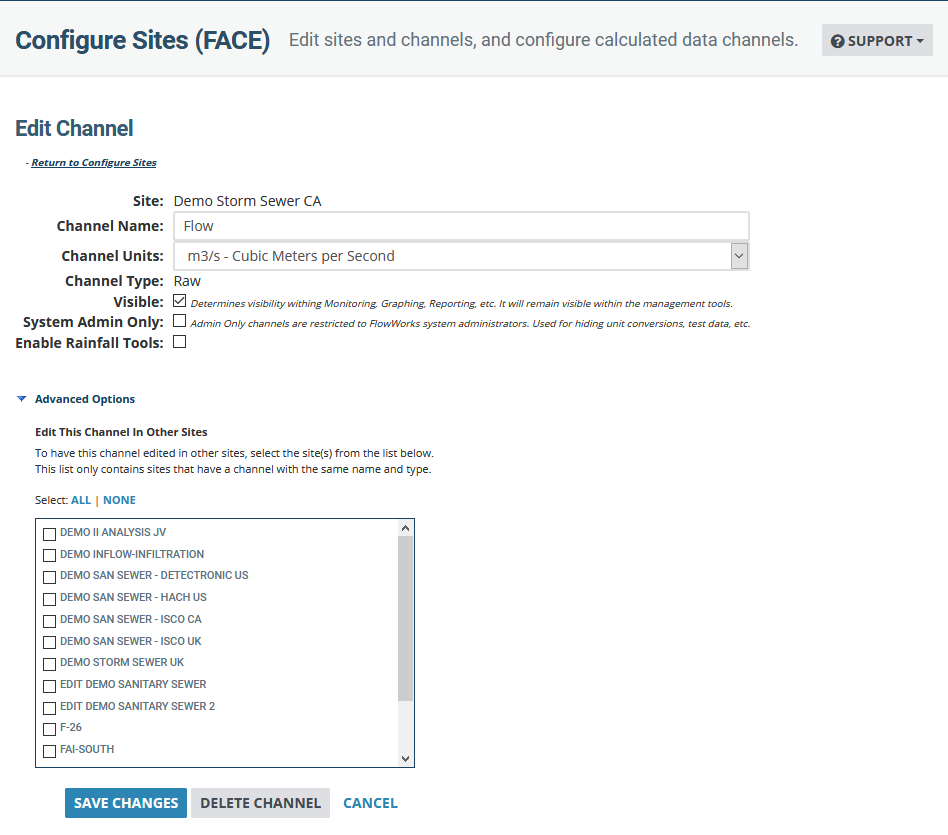 5. (Optional) Delete the channel
If you wish to permanently delete this channel, click Delete Channel. FlowWorks will ask you to confirm the removal of the channel.

6. (If you are editing the channel) Click Save Changes
FlowWorks will confirm that edits were saved successfully and you will be returned to the Configure Sites (FACE) page.