A site icons (also known as site status indicators) represents an individual site. You can find site icons strewn across the map, and within several site list in FlowWorks. You will find that each site icon has two characteristics: a symbol for site type, and a color for site status. You can find a list of all the possible icons by hovering your mouse over Legend, found above the map.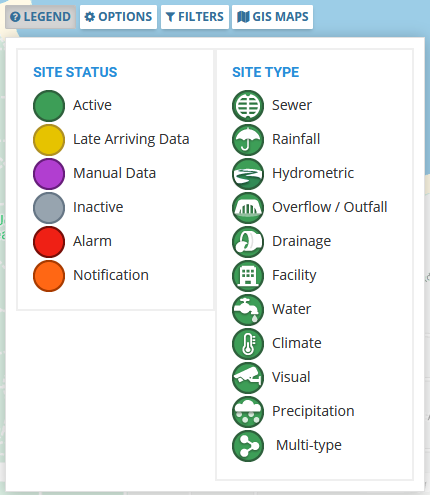 The symbol in a site's icon explains the site type. For example, a site with an umbrella indicates it is a 'rainfall' site type.
The color of a site icon indicates the site status.

Active sites are colored green.
Sites that call into FlowWorks but are late are colored yellow.
Inactive sites are colored gray.
Sites that have an active alarm are colored red.
Sites that have an active notification are colored orange.
Manual data sites are colored purple.
Below is a tables that describe all possible site icons.