FlowWorks provides users with a couple of ways to quickly check whether a Site's data is arriving on time. This topic describes both methods.
In this Topic:
Checking Site Status Using Search in Map View
To check a Site's status via Map View:
Log-in to your FlowWorks account. The Network Map view is the first visible page upon logging-in.
Type all or part of a Site's name in the search bar in the upper left of the Network Map view, then press Enter.
The system searches based on your search criteria. This may take a few moments, depending on how many Sites you have.

The Search Bar returns a message telling you how many Sites were found. It also highlight those Sites blue in the Site Directory.
Click your desired Site.

The Map View will pan over to the location of your chosen Site. A box will appear next to your Site's icon with details.

This is where you can view the Site's Status. The information box shows when the most recent packet of data was received. If data is late, the box will show how often data is expected to arrive.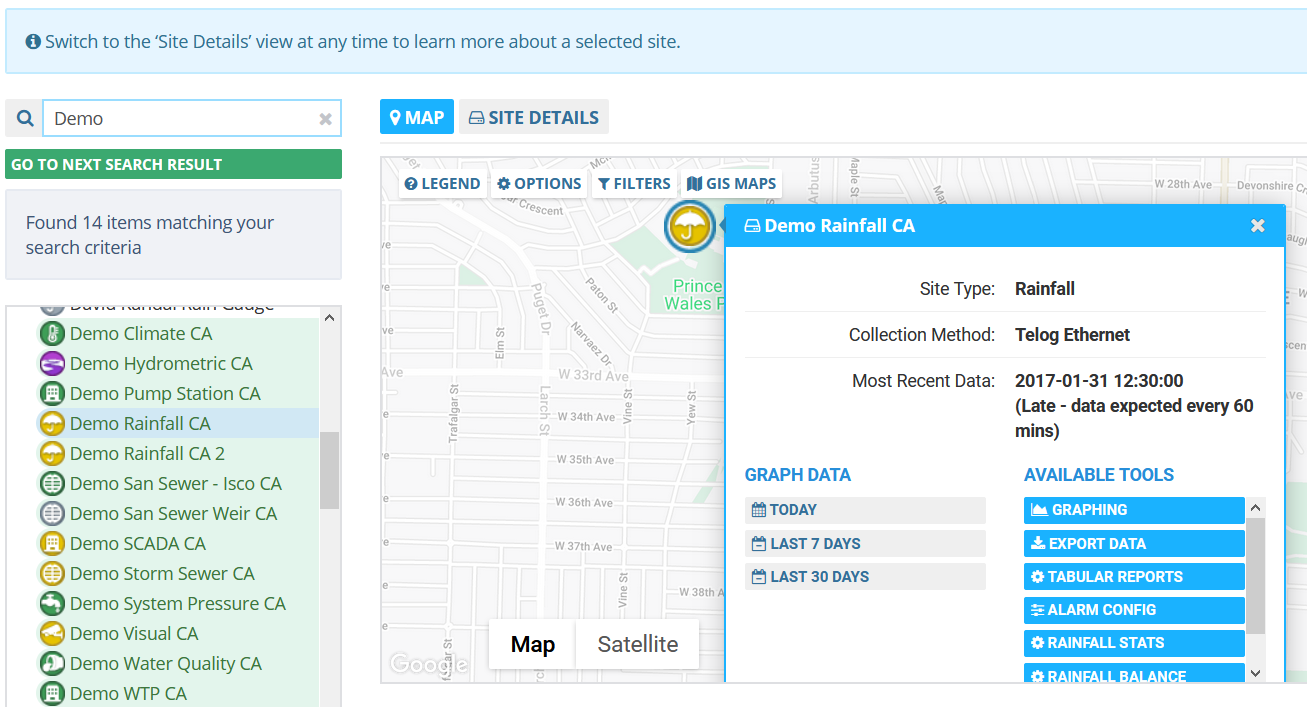 Checking Site Status via the Site Status Tool
Use this tool to check the date and time of your site's most recent data. This tool gives you the option of checking several Sites at once.
Log-in to your FlowWorks account.
Click on Monitor. A drop down menu appears.
Select Site Status. The Site Status tool loads.
Select all Sites you wish to check from the Site Directory, found on the left side of your screen

For convenience, you can optionally select All sites. If you choose to do this, you may also want to select Check Raw Channels Only. This will tell the system to only check for channels that receive raw data, as historical and inactive Sites do not receive data on a scheduled basis.
Click Check Site Status. A list of your sites, including time and date of most recent data populates. This may take a few moments, depending on how many Sites you've selected.